VVA NJ State Council Chapter 899
Vietnam Veterans of America NJ State Council Chapter 899 Burlington County
P O Box 263
Bordentown Township, NJ 08505
MEETING ARE ON THE 4th SATURDAY OF EVERY MONTH AT 1:00pm AT THE
BORDENTOWN SENIOR COMMUNITY CENTER, 3 MUNICIPAL DR., BORDENTOWN, NJ 08505 – NO MEETING WILL BE HELD IN JULY OR AUGUST, NEXT MEETING WILL BE SEPTEMBER 2018
President – William West 4 Willowuhby Ln Southampton, NJ 08088 Tel 609-801-0472 tonto21449@yahoo.com
1st Vice President – Charles Davies 5 Barbee Ct Bordentown, NJ 08505 Tel 609-731-3772
2nd Vice President – Dale Watson 765 Rte 524 Allentown, NJ 08501 Tel 609-259-2691 dmw20@optonline.net
Secretary – John Lesko 6 Knowlton Dr Marlton, NJ 08053 856-983-1204 lesko@vva899.org
Treasurer – Donald Mohr 69 Charles Bossert Dr Bordentown, NJ 08505 Tel 609-298-9122 donm0120@verizon.net
State Council Delegate – Brian Dumont, 43 Weller Ave Trenton, NJ 08610 Tel 609-392-0282 doowopdm@msn.com
State Council Delegate – John Lesko 6 Knowlton Dr Marlton, NJ 08053 856-983-1204 lesko@vva899.org
State Council Alternate – Donald Mohr 69 Charles Bossert Dr Bordentown, NJ 08505 Tel 609-298-9122 donm0120@verizon.net
State Council Alternate – Tony Laudicina 420 Parry Dr Moorestown, NJ 08057 Tel 856-234-0554 tlaudicina@comcast.net
Associate Representative – Betty Kleber 43 Weller Ave Trenton, NJ 08610 Tel 609-392-0282 kleber619@msn.com
Mar-Apr 2020 Newsletter (PDF)
New Jersey State Council Meeting
October 1, 2017 at 11:00am
at
Municipal Building of Bordentown Township
3 Municipal Drive
Bordentown, NJ
Hosted by Chapters 899 & 452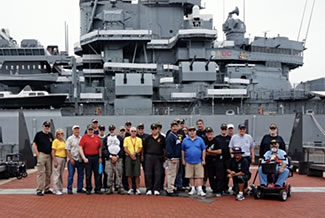 A group of Vietnam Veterans visited the Battleship New Jersey (BB-62) on September 13, 2017. The Light Rail train provided a private train car (non-stop) from Bordentown to Camden. A light lunch was provided by VVA 899. Charles Davies, a life member of Chapter 899 and volunteer on the Battleship for the past 7 years, arranged and coordinated this trip.
The Battlehip New Jersey (BB-62) earned the Navy Unit Commendation for Vietnam service. She has received...
With a total of 19 Battle and Campaign Stars, New Jersey is America's most decorated battleship and surviving warship, completing 30 years of service next week!