VVA NJ State Council Robert E. Wheelock Memorial Chapter 327
Vietnam Veterans of America NJ State Council Chapter 327 Sussex County
P O Box 9
Stanhope, NJ 07874
Tel: 908-298-1588
Fax:
Email: fishman23@optonline.net
Next VVA Chapter 327 Board Meeting is at 9:00am on Saturday April 28, 2018
Next VVA Chapter 327 Meeting is on Saturday at 10:00am on April 28, 2018
41 U.S. Highway 46
Budd Lake, NJ 07828
973-691-2222
PTSD Ward Visit – 1st Monday of Every Month
President – Frank Arminio P O Box 283 Lake Hopatcong, NJ 07849 Tel 908-298-1588
fishman23@optonline.net
1st Vice President – John Marino, 38 Iroquois Ave Landing, NJ 07850, Tel 973-398-8348 jmmarino@optonline.net
2nd Vice President – John Bender 8 Richard Ave West Caldwell, NJ 07006 Tel 973-882-9282
Secretary/Treasurer – John Marino, 38 Iroquois Ave Landing, NJ 07850, Tel 973-398-8348 jmmarino@optonline.net
State Council Delegate – Frank Arminio P O Box 283 Lake Hopatcong, NJ 07849 Tel 908-298-1588 fishman23@optonline.net
State Council Delegate – John Bender 8 Richard Ave West Caldwell, NJ 07006 973-882-9282
State Council Delegate – John Marino, 38 Iroquois Ave, Landing, NJ 07850, Tel 973-398-8348 jmmarino@optonline.net
State Council Alternate – Elston Pirro
AVVA Chairperson– James Kim kavwvkjh@gmail.com

Nov 19 – VVA Chapter 327 President Frank Joseph Arminio presenting John A. Griffith Assoc Director of Lyons VA New Jersey with a check for $500 donated specifically for the Lyons PTSD Ward Recreation Fund and also VVA Chapter 327 donated $500 in Uber Cards for the VA Uber Program at both Lyons and East Orange Facilities... more
It is with a sad heart that we report that our Brother Len Worland passed away on Friday May 7, 2021.
Merry Christmas and a Happy New Year from Rolling Thunder National & Vietnam Veterans of America, Chapter 327 – Wreaths Across America 2019
VVA Chapter 327 June 2021 Newsletter (PDF)
Aug 9, 2018 – Email to John Rowan (PDF)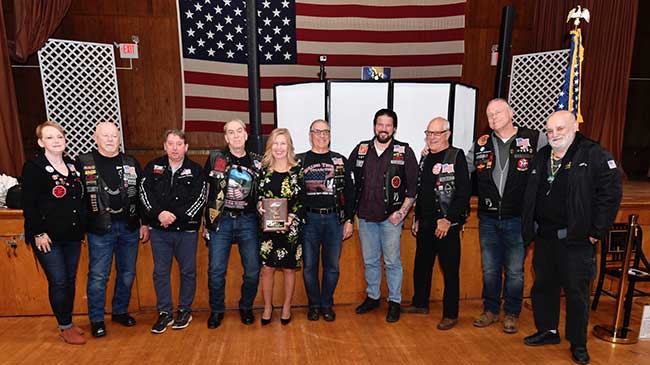 Rolling Thunder National and Vietnam Veterans of America Chapter 327 President Frank Joseph Arminio Presenting VSO Betsy Haluszczak with a Plaque in Appreciation of Her Dedication in Helping Veterans Throughout New Jersey at Her Retirement Luncheon.

God Bless Betsy US Veterans Will Always Be With You.